Carry forward the quality culture of "quality inheriting the original intention and strengthening Pudong with quality". On the afternoon of March 31, the third government quality award ceremony was held in Pudong New Area. Hang Yingwei, Deputy Secretary General of the municipal government, deputy secretary of the Pudong New Area District Committee and district chief, and Dong Yiwen, member of the Standing Committee of the Pudong New Area District Committee and executive deputy director of the Pudong New Area, attended the ceremony and presented awards to the winners. Shen Jianhua, chairman of Tramy group, attended the award ceremony as an award-winning enterprise of district chief quality award.
On behalf of the district government, hang Yingwei, deputy secretary of the Pudong New Area Party committee and district chief, congratulated the winning units. He pointed out that the Pudong New Area government quality award represents the highest standard of quality management in Pudong, and also reflects the best level of quality innovation and quality development in the new area.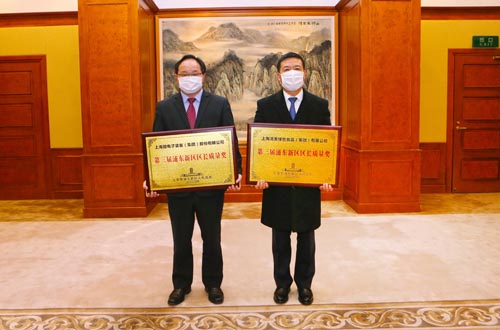 Shanghai Tramy green food (Group) Co., Ltd., as an award-winning enterprise of "District Chief Quality Award", is a leading enterprise in the national bean product industry, and an important partner of Shanghai's "vegetable basket project" and "breakfast project". During the period of epidemic prevention and control, Tramy group guaranteed supplies and prevented epidemic disease with one hand, which was highly praised in all aspects.
In an interview after the award ceremony, Shen Jianhua, chairman of the group, said: as a food production enterprise, food quality and safety is the first line of defense that must be firmly established. Tramy company attaches importance to quality, brand and promotion, and innovates the whole industry chain mode of fresh food.

Gan Weiqiang, director of the evaluation committee of the Pudong New Area Government Quality Award and director of the Shanghai Quality Certification Consulting Center, said that Tramy has opened up a modern road of technological innovation. It has played a leading role in the industry in terms of equipment, assembly line, and the innovation achievements in the whole field of bean products in the whole city and other provinces and cities.

It is reported that Pudong New Area encourages enterprises to actively innovate in quality mode and quality management methods by cultivating and creating a three-level quality benchmarking echelon including district level government quality award, Shanghai Municipal Government Quality Award and China Quality Award. Tramy was awarded the district chief quality award, which is the affirmation and encouragement of the superior leaders to the group work. In the future, Tramy will continue to work hard, strictly grasp the production and operation management, provide higher quality products