In the morning of September 9, the "Shanghai breakfast project sharing breakfast project" was held in the friendship Hall of Shanghai Exhibition Center. Tramy gathered with 13 breakfast enterprises including Bohai, milk shed and Shen Dacheng to show the success of breakfast sharing by enterprises in the form of set meal Fruit. Xu Kunlin, vice mayor of Shanghai, Shang Yuying, Deputy Secretary General of Shanghai municipal government, Hua Yuan, Secretary of the Party group and director of Shanghai Municipal Commission of Commerce, Yu Yong, Secretary of Jing'an District Party committee, Shen Jianhua, chairman of Tramy group, attended the meeting.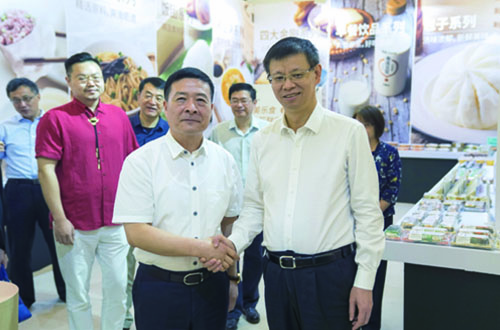 In view of the personalized needs of consumers and nutrition science, Tramy group has brought the students' nutritional breakfast, white-collar Yuanqi breakfast, Li Ren light food breakfast, children's Mini breakfast, healthy health breakfast, three high-level group breakfast, four King Kong meal and other package varieties for the exhibition, which led consumers to choose healthy and nutritious meals suitable for themselves.
In his speech, Huayuan, director of Shanghai Municipal Commission of Commerce, pointed out that the new round of construction of breakfast project adheres to demand orientation, actively promotes the construction of "sharing breakfast" and vigorously promotes breakfast resource sharing. The Shanghai Federation of commerce plays an industry organization role, and organizes and publishes the list of demonstration enterprises and demonstration points of breakfast sharing in Shanghai, and organizes enterprises to display breakfast sharing achievements. On site, shenjianhua, chairman of Tramy group, acted as "Sharing breakfast" brand participated in the enterprise exchange and speech. He said that over the years, Tramy actively responded to the call of the municipal Party committee and the municipal government. Under the unified deployment of the Municipal Commission of Commerce, through cooperation with the breakfast sharing enterprises, the company increased the supply of products, and created a clean and beautiful breakfast supply system integrating research, production, supply and marketing with high standards, and constantly developed standardized breakfast to make varieties richer; and Italy nutrition package, make breakfast healthier, continue to expand breakfast channels, make purchase more convenient. In the future, Tramy will also give full play to the advantages of breakfast processing, and export nearly 1000 kinds of breakfast to related enterprises through the "sharing breakfast" platform, and keep the distance between healthy and delicious Tramy breakfast and end consumers.