On the afternoon of September 10, Weng Zuliang, member of the Standing Committee of the Shanghai Municipal Committee and Secretary of the Pudong New Area District Committee, went to Tramy mud city base for investigation. Shan Shaojun, deputy secretary of Pudong New Area Party committee, Yuan Shengming, full-time deputy leader of District Rural Revitalization leading group, Guan Xiaojun, deputy director of Pudong New Area, Shen Jianhua, chairman of Tramy group, participated in the investigation.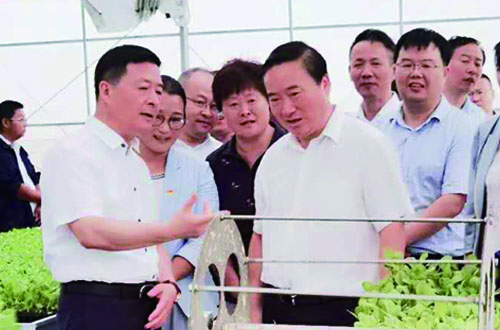 Tramy Nicheng vegetable base is planned to be built in September 2018, with a total area of 1015 Mu and a daily output of 30000-50000 Jin of high-quality green leafed vegetables, with an annual output of 18000 tons. In particular, the full-automatic seeding line and the tidal irrigation production system of jimaocai fully demonstrate the scientific and technological level of Tramy agriculture. In December 2019, the Agricultural Committee of Pudong New Area awarded the title of safe and high-quality agricultural products rest assured base in Pudong New Area.
The tidal irrigation system used in Nicheng base originated from Holland, which has developed facility cultivation. It is an irrigation method with bottom water supply designed for nutrient solution cultivation and container seedling raising of potted plants. The method uses the drop principle to realize water supply and fertilization at fixed time. Tide irrigation can prevent the occurrence and spread of diseases by moistening the leaves, and at the same time, it can realize zero pesticide production in all seasons. Through automatic sowing, tidal irrigation and mechanized harvesting, the Tramy substrate plug cultivation of Salsola has high quality and high-end positioning, and achieves the maximum efficient and intensive use of land.
Secretary Weng Zuliang affirmed the efforts and achievements of Tramy group in the exploration of agricultural science and technology. He said that Tramy should continue to play a leading role in the demonstration of leading enterprises, continue to improve the level of agricultural production organization, science and technology and standardization, promote agricultural efficiency, increase farmers' income, supply more high-quality agricultural products with local characteristics, and build Shanghai's agricultural brand.