From November 25 to 27, the 2020 Shanghai International Potato Expo (hereinafter referred to as "Shanghai potato Expo") was held in the National Convention and Exhibition Center. Tramy Group actively participated in the Expo, bringing Tramy potato products such as potato steamed bun, steamed bread, baking, etc., which were displayed on the same stage with potato energy bars, potato cookies and other similar products in the market.
At the meeting, Tramy potato fried dough sticks won the best Creativity Award of Potato by the Organizing Committee of Shanghai International Potato Expo for its unique taste and high nutritional value. In 2015, the national potato staple food strategy was officially launched, and Tramy group responded positively by establishing a project team for the first time to implement the research and development of potato staple food products. Over the years, Tramy has gradually formed a series of mature technologies in the field of potato staple food research and development by taking advantage of talents, technological innovation and market channels, which has promoted the development and industrial upgrading of potato staple food products.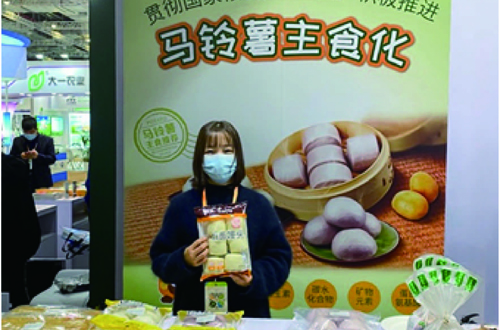 At present, Tramy has developed six categories of potato staple products, including steamed bun, steamed bread, baking, noodles, quick-frozen and fried, with a total of more than 20 products. In 2018, Tramy won the title of top 10 brands in potato staple industry and top 10 leading enterprises in potato staple processing industry.