On November 26, Ji Zhaoliang, chairman of the Chinese people's Political Consultative Conference in Pudong New Area, and his party inspected zhangjiaqiao base in Tramy. Su Jinshan, director of the district agricultural and Rural Committee, Shen Yingjun, Secretary of Xuanqiao town Party committee, Feng Xin, deputy secretary and mayor of Xuanqiao town Party committee, Zhu Honghui, deputy secretary of Xuanqiao town Party committee, and Zhang Kewei, deputy mayor of Xuanqiao Town, accompanied the inspection. Shen Jianhua, chairman of Tramy group, warmly received the inspection. Chairman Shen Jianhua gave a detailed introduction to Chairman Ji Zhaoliang and his party on the production and operation of zhangjiaqiao base, project promotion and development prospects.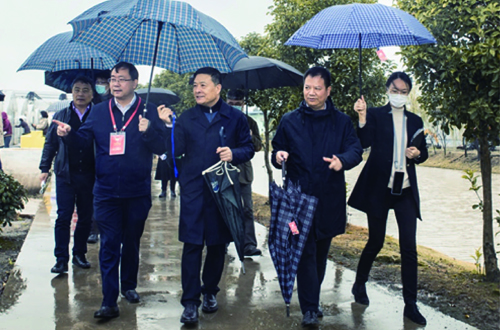 After the outbreak of the epidemic,Tramy zhangjiaqiao base, together with other agricultural bases in Tramy, timely and effectively promoted the production units and farmers to rush to seed and harvest, and to check the quality. Through the layout of the whole industrial chain inTramy, the one-stop "production supply and marketing docking" was realized, which played a positive role in the supply of vegetables in the market and meeting the needs of the public during the epidemic period.
Ji Zhaoliang and his party listened to the general situation of the base in detail, and affirmed the achievements of the project, especially the contribution of Tramy company to the vegetable supply in the new area during the epidemic. We hope that Tramy will continue to play the leading role of leading enterprises, constantly optimize the technological process of agricultural science and technology, and help Pudong real estate to upgrade the quality of agricultural products.