On December 6, the 2020 collective commendation meeting for Shanghai model workers (advanced workers) and Shanghai model workers was officially held, and 840 candidates won the honorary title of Shanghai model workers (advanced workers) in 2020.
In Pudong New Area, 59 comrades including Shen Jianhua, chairman of Tramy group, were elected as Shanghai model workers (advanced workers) in 2020. Shanghai labor model is an advanced model emerging from all walks of life in Shanghai in recent five years. It is to accelerate the implementation of three new major tasks, build "five centers" and launch "four brands" in Shanghai, promote the construction of major national and Shanghai strategies, major projects, key industries, promote the high-quality development of the city, and enhance the city's energy level and core competition He is an excellent representative of the power.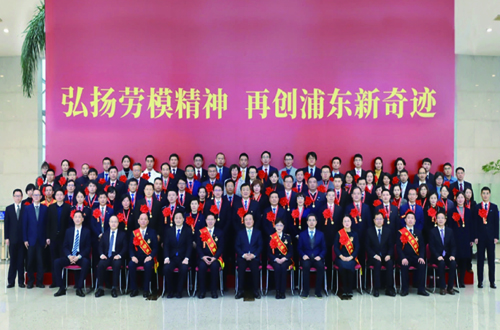 Shen Jianhua, chairman of the board of directors, was elected as a model worker (advanced worker) of Shanghai in 2020. Over the past 22 years, chairman Shen Jianhua has led the company to start a business from a small workshop of seven people. He has built Tramy brand from unknown to a national key leading enterprise of agricultural industrialization,a national demonstration enterprise of agricultural products processing industry,a national demonstration enterprise of staple food processing industry,a well-known trademark obtaining enterprise of China, a high-tech enterprise of Shanghai, a civilized unit of Shanghai, and AAA grade contract abiding enterprise Credit enterprises have become the backbone of Shanghai's food basket project and breakfast project. More than 1000 families with an annual income of 300000 have been created, more than 5000 farmers have been employed, and the fresh food consumption needs of more than 20 million people in the Yangtze River Delta have been met..
Through continuous mode innovation, Tramy has become a comprehensive food group integrating food R & D, modern agriculture, food processing, cold chain logistics and food distribution, with a complete food industry chain.Tramy has successfully built several business models, including Tramy fresh food community offline convenience store model, Tramy fresh food to online B2C home model, Tramy fresh food family online and offline integrated store model, and Tramy Leshi new catering, which have consolidated the advantages of the whole industry chain, all categories and all channels, and successfully transformed into "urban fresh food comprehensive service provider".
During this year's epidemic period, chairman Shen Jianhua led Tramy group to devote itself to epidemic prevention and control and market supply guarantee, and is duty bound to shoulder the social responsibility of Shanghai People's food safety and livelihood guarantee. Give full play to the group's advantages in the whole industrial chain of planting, breeding, processing, transportation and terminal sales, and continuously deliver the fresh food products needed by the public to the public table. During the epidemic period, Shen Jianhua paid attention to both the guarantee of supply and the prevention of epidemic. In view of the shortage of anti epidemic masks in the market, he led the group to cooperate with industry companies to free up manpower to produce masks by revitalizing existing assets. Two mask production lines can produce up to 800000 disposable civilian masks per day, making new contributions to the fight against the epidemic.
Shen Jianhua, chairman of the board of directors, was elected as a model worker in Shanghai. This is the honor of Tramy. It is engraved with the hardships and achievements of Tramy's entrepreneurial team, reflecting the legend of innovation driven private economy and brand development of Trsmy in 22 years with wisdom and sweat. Standing at the end of the 13th five year plan and the beginning of the 14th five year plan, Tramy will continue to carry forward chairman Shen Jianhua's consistent spirit of working model, working spirit and craftsmanship, adhere to the principle of "working hard", be a "fighter" in the new era, spare no effort to participate in Shanghai's reform and opening up, and help the city develop opportunities and start a new situation in the great change, and become a global competitive city The leader of fresh foo