As the 2020 cross-border COVID-19 project, the operation of the MGM has received the attention of all parties. It fully supports the overall dispatching of city's epidemic prevention materials and protects the personal safety of employees at the greatest degree. In order to prevent the rebound pressure of epidemic situation and provide long-term support for the overall situation of urban epidemic prevention and supply guarantee, Tramy mask workshop was officially put into operation in the group headquarters on December 1. The first phase workshop covers a total area of 800 square meters, with a single shift output of 100000 and a daily output of 300000.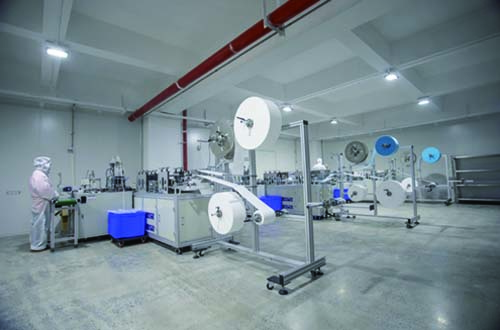 January 13, mask production workshop phase I
Compared with the external workshops temporarily resumed production in the first half of 2020, the mask workshop of the group headquarters has a higher degree of automation. The first phase workshop is equipped with integrated automatic mask forming machine and automatic packaging and film covering equipment, which omits the manual spot welding link of traditional mask production, reduces labor intensity and greatly reduces personnel allocation. On the morning of January 13, the author saw in the mask workshop that the 800 square meter workshop was clean and tidy with sufficient light, materials and equipment were placed in order, raw materials such as melt blown cloth, non-woven cloth and ear band were automatically transferred into the mask automatic production machine, and the finished products were output through automatic bonding and spot welding. The finished masks were transported to the later stage of lamination and packaging, and stacked neatly in boxes waiting for shipment.
The new version of Tramy mask adopts the design of separate film application, with 10 independent packaging products in a bag, which is more hygienic and tidy. There are three styles, including traditional three fold mask, updated mask face fold and smaller size. It is suitable for different aesthetic groups, women and children. Tramy logo is printed on the lower right corner of all new Tramy masks to increase the beauty of products. Because of the wide earband design, it can effectively alleviate the defects of similar products in the market, and will not bring more discomfort when wearing it for a long time. Tramy mask is more beautiful and comfortable to wear. Once it is put on the market, it has been widely praised by consumers and has become a necessary material for urban epidemic prevention. It is reported that the second phase of the workshop is speeding up the preparation, and more high-quality, beautiful and comfortable Tramy masks will soon be put on the market.