In 2013, the general assembly of the United Nations adopted resolution 68/231, declaring 2016 the International Year of beans, and the resolution a/res/73/251 of 2019, declaring February 10 as world soybean day.
On February 10, 2021, when the third world soybean day (February 10) is approaching, the soybean products professional committee of China Food Industry Association (CFIA) convenes domestic first-line soybean products enterprises, including Tramy, to hold the theme activity of "world soybean day · love soybean action". During the world soybean day,Tramy, as a leading enterprise of soybean products in China, gives full play to its multi-channel advantages and closely focuses on The theme of "love beans, healthy diet, protect the earth" and the theme of "eat more tofu, health and happiness" are used to spread the food culture of bean products, encourage people to eat more beans and enhance their immunity.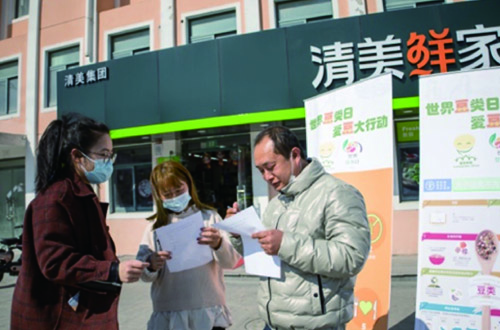 Tramy, as an enterprise of people's livelihood in Shanghai, has been making every effort to build the whole industry chain matrix for many years, realizing the full independent control of cultivation, processing and distribution, and channel sales. During the world legume day, relying on more than 500 new retail networks in Shanghai, the group promoted the theme activities of Aidou action and advocated health through questionnaire answering, promotion of Yilabao, and on-site explanation eating habits. The answers were inspired by material objects, and the contents of propaganda positions were vivid. The theme activity of Tramy soybean day had a wide audience and achieved remarkable results. From February 1 to February 10, the team carried out more than 10 on-site activities, covering Pudong, Jing'an, Xuhui and other densely populated areas in Shanghai.
Tramy Group has always been responsible for spreading the "Chinese bean products culture", built its own science base for bean products, built a museum of bean products culture, and continuously and steadily exported healthy soybean products diet concept to the society. During world soybean day from February 1 to 10, Tramy Group went out and actively introduced it, and received more free visitors. The science popularization team of Tramy also actively invited to make world soybean day science courseware, hold special lectures, share the background of world soybean day, the history of tofu, and the technological evolution of tofu. While increasing the effect of science popularization, the team further enlarged the effect of world soybean day broadcasting and achieved good public praise. The public expressed that they would continue to pay attention to world soybean day The latest trends, eat tofu more, health and happiness.