Tramy Group actively responds to the National Seed Industry Revitalization Strategy and further extends the whole industry chain of fresh food. Its wholly-owned subsidiary Shanghai Tramy Agricultural Technology Co., Ltd. (hereinafter referred to as Tramy Agricultural Technology) has recently officially obtained the qualification for crop seed production and operation. Basic agricultural research is integrated into the daily work sequence of Tramy Group, and Tramy agriculture is implanted with green chips.
Tramy Group has been deeply engaged in the field of high-quality fresh food and people's livelihood for many years. The production chain and science and technology chain are closely related to people's food basket. Tramy agricultural science and technology fully implements the working concept of "starting from the source of good products". After landing its own high-standard planting demonstration base, it puts forward the strategy of "Tramy independent advantage seed source" in early 2019. Aiming at the industrial characteristics of long period, large investment and unstable return of crop seed breeding project, the team adopted a step-by-step innovation strategy, from introduction absorption digestion to cooperative development, trying to realize the independent research and development of Tramy new crop varieties.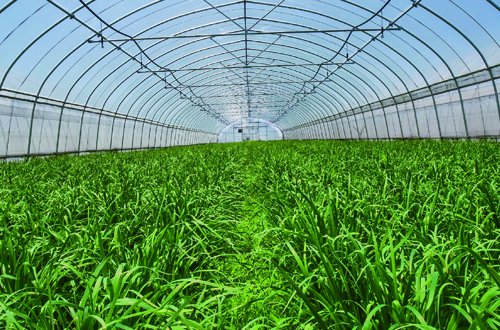 The picture shows: in Tramy agricultural base,
high quality leeks are growing vigorously
In July 2019, Tramy agricultural science and technology officially reached a cooperation with Shanghai Academy of Agricultural Sciences. 50 new varieties of green leafy vegetables of the Academy of Agricultural Sciences were planted in zhangjiaqiao base of Tramy. In October 2019, Tramy zhangjiaqiao base started the whole process mechanization pilot of green leafy vegetables planting. The green leafy vegetables variety Xinxiaqing No.6, which was screened out before, became the main variety of green leafy vegetables planting mechanization by virtue of its heat-resistant quality, outstanding appearance, stable yield and excellent taste, and became the fist product of Tramy green leafy vegetables, which won the public praise in Shanghai.
Recently, Shanghai Tramy Agricultural Technology Co., Ltd. has obtained the qualification of crop seed production and operation. Since then,Tramy has changed from the user of new seeds to the R & D partner of agricultural basic technology with its own platform. Tramy group is based on the advantages of the whole industry chain, can receive real-time feedback from planting and consumer evaluation, and carry out seed source research with a more basic spirit. At present, Tramy agricultural technology is allocating sites and establishing seed source R & D team. It has set up production points for seed breeding of crops in its own agricultural base and set up seedling breeding plants; it has opened up a site in the headquarters of Tramy Group for seed research and development; Tramy agricultural technology has also selected its best efforts to combine with the modern agricultural industry Research Institute of Tramy to form an independent seed source R & D team to carry out long-term research.
At present, with the support of Shanghai Academy of Agricultural Sciences, Tramy agricultural technology has been authorized to produce new varieties of crops including new eggplant, tomato and sweet pepper. It is under trial planting and breeding in its own base. It is expected that the new vegetable transformation results of Academy of Agricultural Sciences will be put on the market by the end of this year.
Shen Jianhua, chairman of Tramy Group, has been persisting in the long-term goal of "benchmarking global quality and helping Shanghai real estate and agricultural products upgrade". Seed source research is the only way to deepen the whole industry chain and a strong embodiment of Tramy practical culture. At present, the joint research and development of new varieties of Tramy crops has been put on the agenda, "Tramy No.1, Tramy No.2" green leafy vegetables are ready to develop, and the high-quality and large-scale fresh product matrix of Tramy is starting……