Food is the first priority of the people. As a food production enterprise, Tianxin company puts food quality and safety first. In order to strengthen the employees' sense of responsibility for food safety production and further strengthen the management of food safety production, the quality department of Tianxin organized the first Tianxin food safety knowledge competition.
The competition mainly focused on the laws and regulations related to food safety, including the food safety law of the people's Republic of China, the regulations for the implementation of the food safety law of the people's Republic of China, the national food safety standard GB 14881-2013, the general hygienic standard for food production, and the knowledge of new coronavirus epidemic prevention. Tianxin quality department actively confirmed the activity plan, and all production workshops vigorously cooperated. A total of 8 teams participated in the competition, including noodle packaging team, quality aquatic team, cooked food conditioning team, meat segmentation team, fruit and vegetable team, baking team, lunch box team and clean food team.
After a week of careful preparation, the activity started on time at 3:00 p.m. on March 26, 2021 in the production conference room on the third floor of Tianxin. Ye Feng, director of Quality Department of Tianxin and Tianzhi, made a mobilization speech before the competition, and 45 people from main leaders of production departments, workshop directors and employee representatives attended the activity.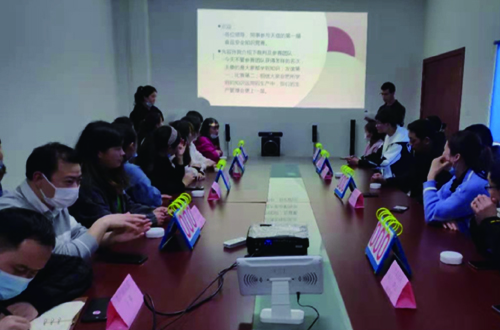 The competition is compact and intense. All teams have shown a high level. The answer is accurate and quick, which makes the whole competition process tense and full of fun. The score and emotion rise alternately. In the process of the competition, through the confident and smooth response of all the participants, we can see that we attach great importance to the competition and carefully prepare before the competition.
After 60 fierce exchanges, the baking team and the clean dish team scored the same score, and after the time added competition of 9 topics, the baking team finally pushed the team to win the champion of the food safety knowledge competition. The clean food team ranked second and the quality and aquatic products team won the third place. Haoxuechao of the clean dish team has outstanding performance in the competition and won the excellent individual award.