On April 27, the launching meeting of China Quality Award application and the Shanghai Municipal Government Quality Gold Award commendation meeting was officially held. All members of the Shanghai Quality Award application group participated in the meeting. Shen Jianhua, chairman of the group, Fu Yaojuan, general manager, Shen Huming, vice chairman and Shen Jie, deputy general manager attended the meeting and presented awards to the application team.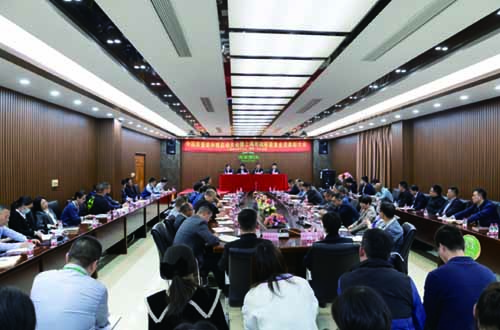 The quality gold award of Shanghai municipal government is the full recognition of Tramy's quality system structure from all walks of life. In the past 23 years of innovation and entrepreneurship, based on the mass line, Tramy has realized the leap forward development of the group's quality and safety management, and refined the "15753" quality management methodology: landing the whole industry chain quality management of Tramy Group, pursuing the "5 return to zero" quality target management system, Build seven one quality and safety management mode" The "5C" action takes the customer as the center, cultivates the organizational tension with the quality culture, demands the benefit from the quality cost control, takes the innovation as the driving force, and expands the market main body of the quality chain.
At the meeting, chairman Shen Jianhua and general manager Fu Yaojuan presented awards and made an important speech on the spot. General manager Fu Yaojuan said that winning the Shanghai quality gold award is both an honor and a requirement. Tramy quality has been repeatedly affirmed. Based on the scientific and accurate quality standard system, we should use our brains and work hard to find and eliminate problems step by step, To achieve mechanism management, major projects are stable and orderly. In the future, we should take 5 to zero as the goal, carry forward the past and open up the future in quality management, and continue to climb.
Shen Jianhua, chairman of the board of directors, made a concluding speech. He said that Tramy has smooth information flow, high-quality product flow and stable channel flow. The whole industry chain structure is the most powerful support for the group's quality improvement. We should continue to take building the top brand of the whole industry chain as our own responsibility, make persistent efforts, build the quality management system of the model industry, constantly deny ourselves, and constantly develop and innovate, We should constantly surpass ourselves, continue to meet the needs of people's livelihood, create more high-quality products, meet the people's yearning for a better life, and contribute to the quality of China.