On December 31st, Su Jinshan, director of the Agricultural and Rural Committee of Pudong New Area, led a team to investigate Tramy Yaolu Vegetable Base, Pushang Tramy Vegetable Base and Shanghai Tramy Vegetable Plantation Field. Wu Weizhong, deputy director of the District Agricultural and Rural Committee, Feng Xin, mayor of Xuanqiao Town, Li Li, general manager of Tramy Agricultural Science and Technology, and other leaders accompanied the investigation.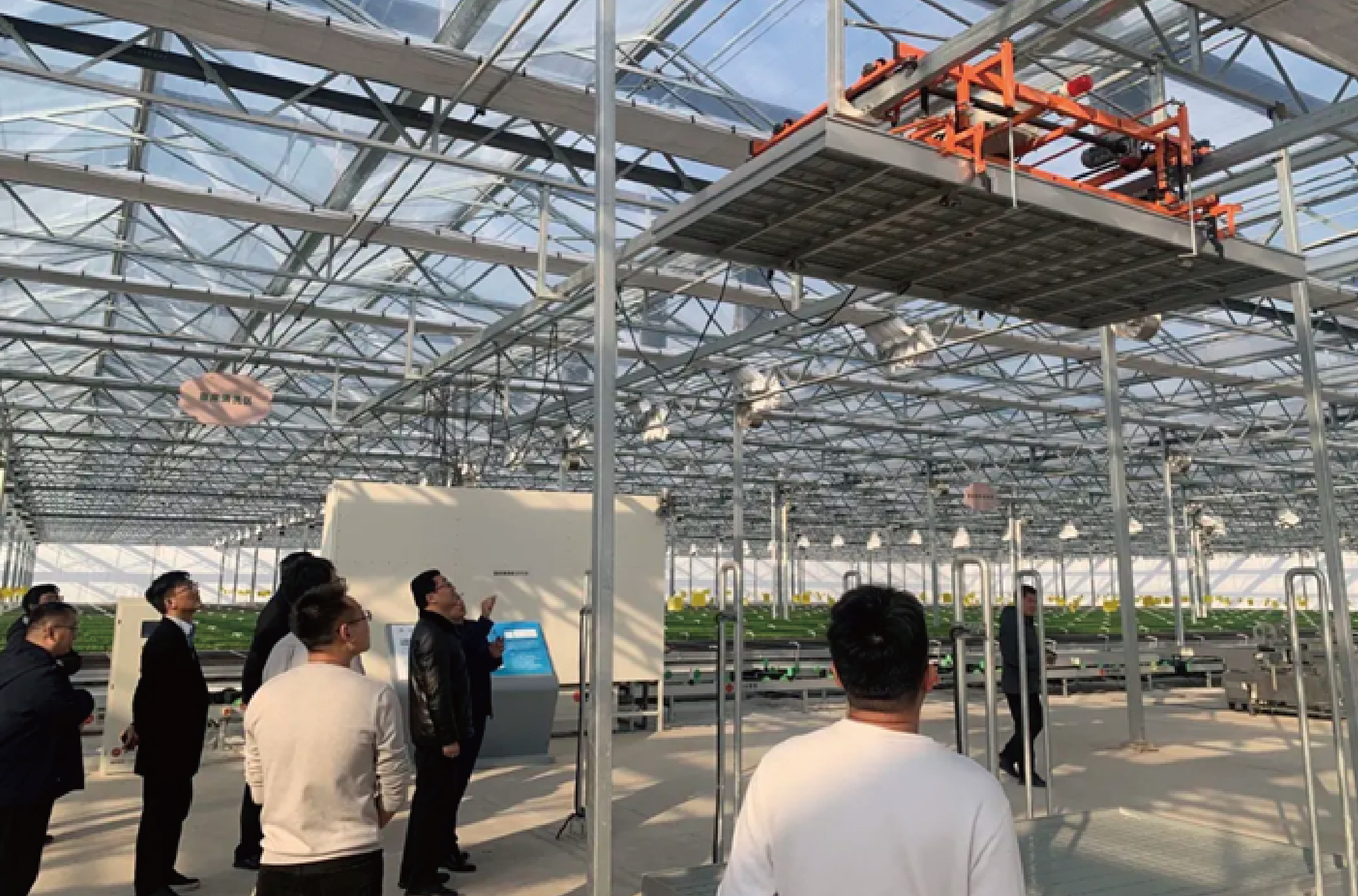 The picture shows: Su Jinshan and his party inspected the unmanned application of seedlings in the Yaolu base
Director Su Jinshan and his entourage learned in detail about the production of vegetables in the fields of Tramy Yaolu Village and Zhangjiaqiao Base. In addition, they also remotely checked the production of vegetables in the fields of Tramy Fairy Village Base through on-site connections.
Su Jinshan and his entourage listened in detail to the production and use of the "unmanned application scenario of seedling vegetables in plug trays" in Tramy Yaolu Vegetable Base. The "unmanned application scenario of plug seedlings" adopts a full set of intelligent equipment independently developed in China: substrate mixer - automatic precision seeding line - automatic plug bed insertion machine - intelligent three-dimensional germination chamber - 90° rotating manipulator - fully automatic Logistics seedbed—automatic harvesting and packaging of chicken feathers—seedbed cleaning—intelligent seedbed stacking area—plug cleaning machine—waste disposal, realizing a fully automatic logistics system, combined with RFID to automatically record the full growth process of each product, and the application of Networking, big data analysis and other technologies, realize large-scale seedbed scheduling, and build an unmanned green leafy vegetable production factory.
Su Jinshan fully affirmed the achievements of the Pudong model of "unmanned application scenarios of plug-in and seedling vegetables". He pointed out that it is necessary to accelerate the replication and promotion of this application scenario in other vegetable industry project bases in Pudong in the spirit of "starting is a decisive battle, and starting is a sprint". Provide a solid foundation.