On the morning of June 3, there was a busy scene in the rice field of Tramy Yaolu base.
At 6 o'clock in the morning, the base staff gathered at the edge of the field early, put on water shoes, rolled up their sleeves, stepped into the seedling field, and relay back and forth to take out plates of green rice seedlings from the field.
At 7 a.m., the rice transplanter was in place. Under the gaze of the 5g rice digital system HD camera in the base, the rice transplanter swung left and right into the farmland, loaded with seedling plates, slowly speeding up, shuttling through the flat rice fields, inserting plates of bright green seedlings into the paddy fields. Soon, the originally dark paddy field was dressed in fresh green.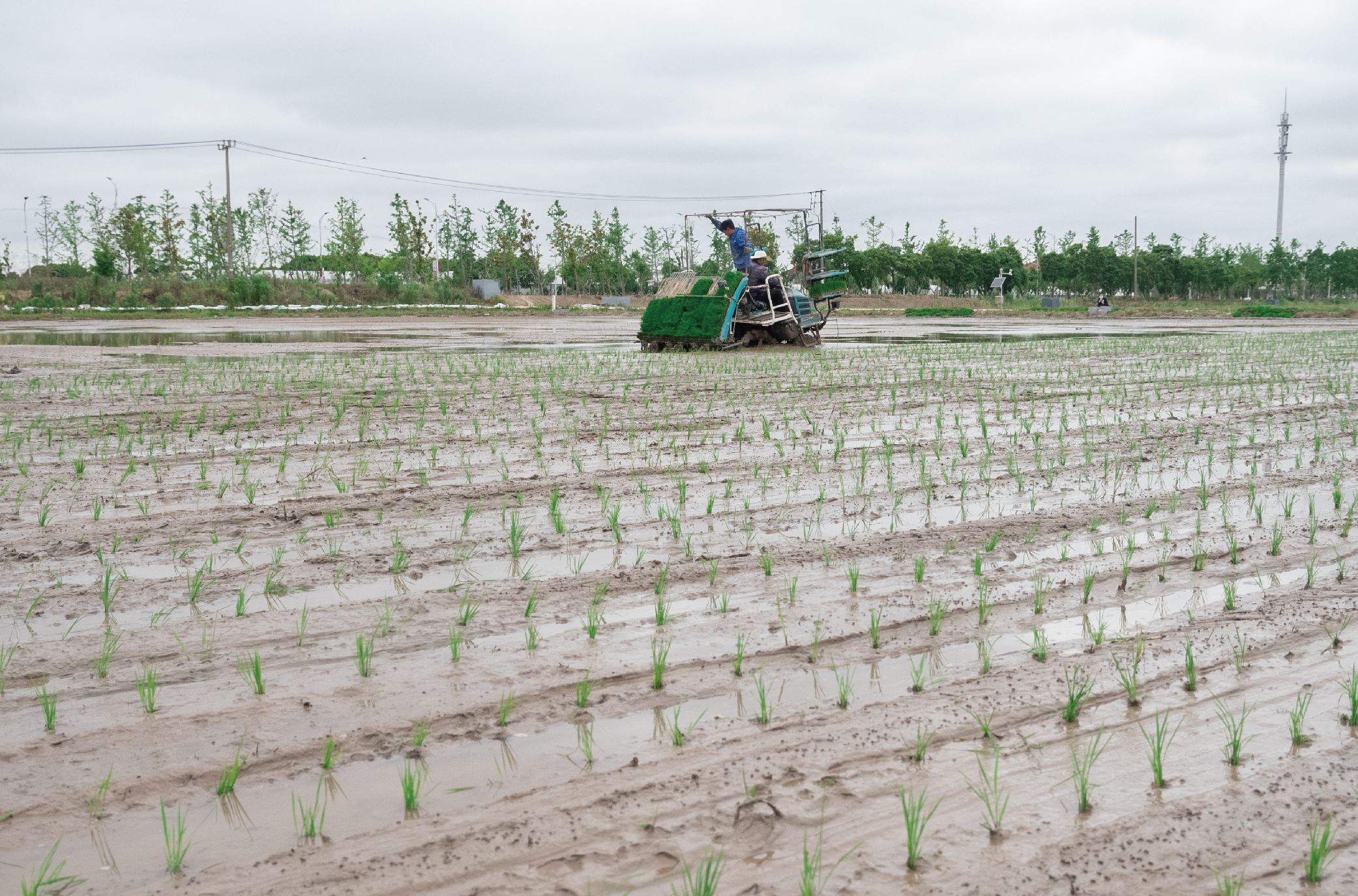 The picture shows the scene of machine transplanting in Yaolu base
According to the staff of the base, the early rice planted this time are huzaoxiangruan No. 1 and huzaojing 193, both of which are national day early rice, covering an area of about 37 mu. Planting with a rice transplanter can be completed in half a day. It is expected to mature in late September, and new rice will be on the market. This national day, Shanghai citizens will welcome the first batch of Tramy smart rice and taste the latest high-quality brand rice of Tramy.
Under the epidemic, it is also a critical period for the management of rice seedling cultivation and sowing. From May, while fighting the epidemic,Tramy agricultural technology has done a good job in the maintenance of all agricultural machinery and equipment in advance, and orderly promoted the seedling raising work. At the same time, it has carried out land leveling work early, irrigation, pulping, and ploughing, so as to prepare for rice field machine transplanting.
It is reported that as the first demonstration site of unmanned rice planting in Pudong New Area, agricultural science and technology has begun to purchase artificial intelligence rice production equipment, and its workflow covers unmanned rice transplanting, unmanned plant protection, and unmanned harvesting. It is expected to start unmanned rice production in 2023.